The production of cast aluminum cookware under the TALKO trademark is a symbiosis of many years of experience, professionalism, diligence of employees and modern production technologies.

All our products are high-quality hand-casting, made in two ways:
- mold casting (gravity method)
- squeezing (liquid stamping method)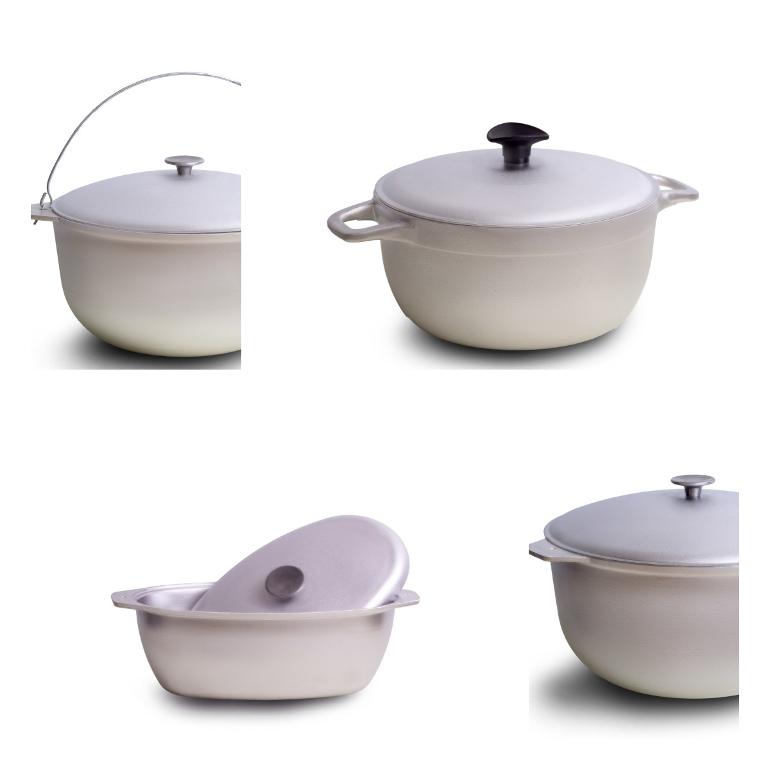 The main materials for manufacturing are AK7p and AK5M2p alloys from trusted suppliers, designed for direct contact with food. After conducting a spectral analysis of the obtained raw materials, making sure of its quality and compliance with standards, you can begin to prepare a liquid aluminum alloy. During the melting process, the alloy is refined and degassed without fail in order to achieve a higher level of metal purity and a denser structure, to exclude the presence of non-metallic inclusions, slag and gas shells in the alloy.
​Qualified employees on reliable equipment perform many operations on product processing, surface preparation for painting (abrasive treatment) and application of non-stick coating. The painting process is carried out in two stages. The first layer is a primer, it provides the resistance of the coating to mechanical damage and imparts adhesion properties, in other words, it provides a strong adhesion of the non-stick coating to the product. Next, the second layer is applied - the finishing one, which gives protective and non-stick properties. The total thickness of the coating is over 30 microns, which will provide the product with at least two years of comfortable use. The coating does not contain carcinogens, lead and cadmium, and is resistant to almost all chemicals, weathering and UV rays. Even extreme climatic conditions do not change its properties, it is physiologically harmless, does not cause a reaction in humans upon contact with the material.

DFT: Dry Film Thickness
PTM: Peak Metal Temperature
​Our laboratory carefully checks samples of painted dishes according to the method developed by the German company 'WeılburgerCoatıngsGmbH'. This technique allows you to fully test the reaction of the non-stick coating to the aggressive environment of some products, a large number of dishwasher cycles, surface overheating, sudden cooling, allows you to check the non-stick, adhesive, corrosion and thermal properties.
Products are completed with high-quality Italian-made fittings, securely packed in a protective polyethylene film and, depending on the configuration, in a stylish individual box.
Compliance with the technological process, control at each stage of its implementation, strict accounting of all products and materials, high production culture allow us to achieve products worthy of the attention of our consumers.